DRYFT Waders – S14 Adrenaline – Info, Reviews, Photos
The DRYFT waders were released a few years ago, and have evolved into a solid lineup of durable 5 layer waders. For 2015, the S14 Adrenaline has a new lower leg design with a simplified seam structure for abrasion resistance, and heavy duty all 5 layer material from the waist down. The new Primo zip-front wader has the overall design, with 5 layer from the waist down and a fully waterproof YKK Aquaseal zipper on the front for easy in out and on the river pit stops plus more added features.
Here's a recent review of the DRYFT waders from a customer: "Living on the Texas coast and ordering these waders from up north I was definitely skeptical at first. Upon arrival, the waders looked top notch quality and very durable. Since putting these waders through a brutal duck season and winter big trout tournament season, they are still in perfect condition. All printed logos are still in tact, zero leaks, and they clean up very easily. I love how I can adjust the shoulder straps so easily if i'm wading in deeper water and need to tighten them up. The huge front pocket is awesome and allows me to carry some different lures with me without toting a big wading belt around. I look forward to sticking with this company for a long time to come and can't wait to get my hands on their new wading jacket. Top notch quality so far, and I think it will stay that way!" Read more DRYFT waders reviews…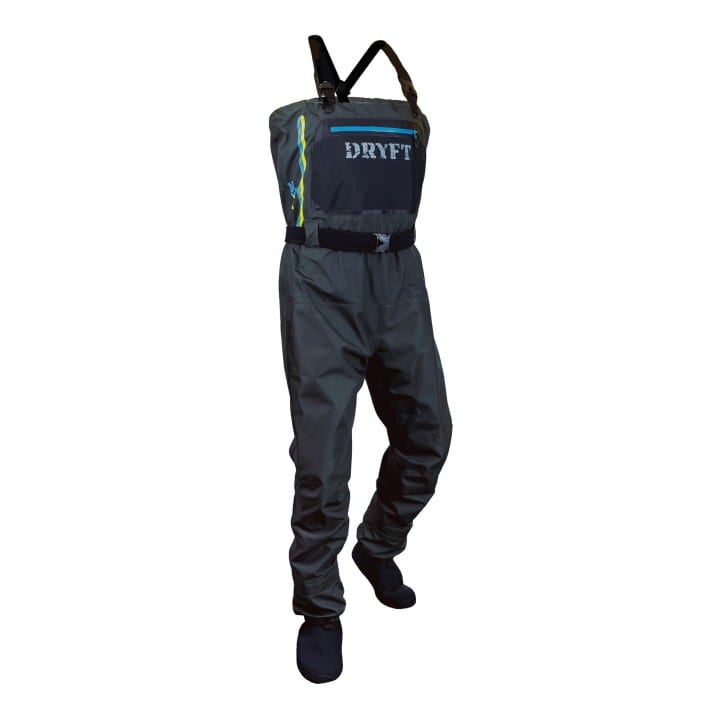 Example of some of the features: 
– 100% waterproof high-grade breathable 5 layer and 3 layer DWR (Durable Water Repellent) coated fabric technology.
– Durable full five-layer lower from the waist down including legs, knees and seat.
– Single vertical seam design on the outside of the legs eliminates abrasion from walking.
– Adjustable shoulder straps with Duraflex® buckles.
Read more at dryftfishing.com.